"Real artists ship."
— Steve Jobs
According to the folklore at Apple, this was a favourite saying meaning you have to have the guts to actually deliver when it's time to deliver.
In one instance in particular, Steve Jobs used the mantra to call the bluff of a reluctant engineer who didn't think his code was ready.
Jobs laid down the law.
Seth Godin argues in his books that the real problem is fear.  It's a lot safer to try to pretend that just a few more days will enable reaching perfection, but that's just illusion. The real problem is fear.  And the solution is courage. That recalcitrant engineer, the argument runs, was simply prone to that overly-cautious lizard brain.
So in comes the 'real artists ship' mantra. It's a call to arms, a suggestion that you should just fight back, suck it up, or 'feel the fear and do it anyway,' as one saying goes. Just do it. Give the send order. Hit the publish button. What the hell, go for it, even if the creative idea is only half-baked. The next adage you hear is that it's okay to fail – in fact, fail early and fail often.
These just-do-it interpretations miss a key part of the quote – 'real artists' are first and foremost just that: real artists. And that means they actually do a few crucial things long before they ship.
If you focus on these other crucial things, you may find that the problem is not at all fear. It's the absence of passion and purpose. It's the absence of the drive and confidence that go hand in hand with passion and purpose.
So here's another way to think about the 'real artists ship' mantra: Sure, you want to ship. You're yearning to create what you're yearning to create. But first ask if you're doing what a 'real artist' does in the first place. The real artist does these three things:
Passion and Purpose Are the Drivers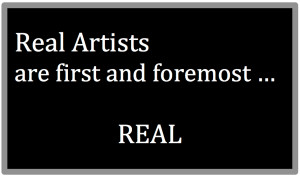 Notice that Jobs didn't say 'responsible companies ship on time.' He wasn't talking about mechanical operations. He was referring to how he and Apple had developed a purpose so clear it created an energy and drive that overpowered the stresses that come from doubt or fear. The lizard brain is puny compared to the power of purpose that forms in the higher parts of the brain.
Real Artists Collaborate
Even artists who appear to work alone collaborate in countless ways. Notice that Jobs himself in the example above was collaborating with the engineer. They both would have shipped nothing without that collaboration.
If you feel the tug of fear about finishing a creative project you've started, maybe the fear is a signal.  Maybe you need to first collaborate with a kindred spirit or colleague. Discuss it. Brainstorm. The encouraging words of a good mentor are in short supply these days, yet they've never been in greater demand.
Real Artists are True to Their Values, Calling
It's hard to imagine Shakespeare feeling paralyzed by fear and saying to himself, 'okay, Will, just feel the fear and do it anyway.' He was pursuing what his heart called him to do. As he wrote in Hamlet, "This above all: to thine own self be true." It was an expression of his own beliefs; like all writers, he placed his own ideas in the mouths of his characters.
So if you ever feel the tug of doubt about a creative project, maybe it's a sign that the project is not aligned with your own values, your own true self. That's okay, it may be a sign it's the wrong project. It might be a sign to switch to that other project that really is in line with your true inner values and calling.